Download the SafePal application
Download the SafePal application
Download SafePal App
One of the most important security points regarding the use of Safe Paul software wallet is making sure to download the software from reputable stores such as Google Play or Apple Store. For this purpose, despite the fact that Iran Safe Pal is the official representative of Safe Pal in Iran, we have used the direct link of Safe Pal's main website (Safepal.com) to download the software so that Iranian users can feel at ease without any doubt. Download Safe Paul software. In order to download the software and prevent any fraud by malware, which unfortunately has become very common these days, do not download the software from any non-authentic download links or any site other than the main site.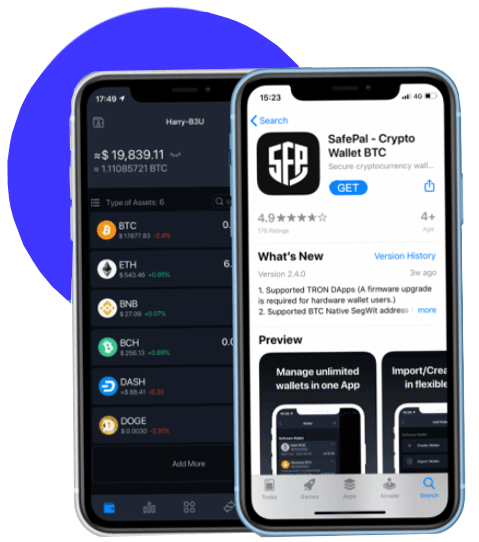 One of the easiest ways to avoid mistakes in downloading similar software is to use the link of the main site, but in addition to this, there are other methods. has it. For example, those users who have purchased Safe Paul 2023 hardware wallet, can scan the QR code on the back of the wallet box Hardware money is located in 2023, download the software directly. It is noteworthy that all Iran Saif Paul products are produced in 2023

Another advantage of using a direct link is the ability to directly download the wallet as a browser extension. You can connect your wallet to decentralized exchanges or trusted platforms by using Safe bridge plugin. By downloading and installing this plugin, you can easily manage your assets on the browser. Until now, the Safe Paul wallet extension for three famous and widely used browsers: Chrome, Firefox. FireFox) and Edge can be downloaded.

Another advantage of using the direct link of Safe Pal site is related to android phones. Those whose mobile phone operating system is Android can download the installation file of the Safe Paul software wallet with the APK extension directly from the site.
Another point that you should consider when downloading software from reputable stores is that before downloading, make sure that you are going to download the original software of the company itself. One of the important things in this case is the number of downloads. Before downloading, check that the number of downloads and rating of the Safe Pool software in the Apple Store or Google Play is high enough.

After you have successfully downloaded the SafePul application, you can benefit from all the countless features that the SafePul application provides.