---
Dear SafePal Community,
SafePal is proud to announce a campaign, which will allow users to swap any assets (supported in SafePal Swap) to USDC without any swap fees from 24th April 3AM UTC – 7th June 3AM UTC 2023!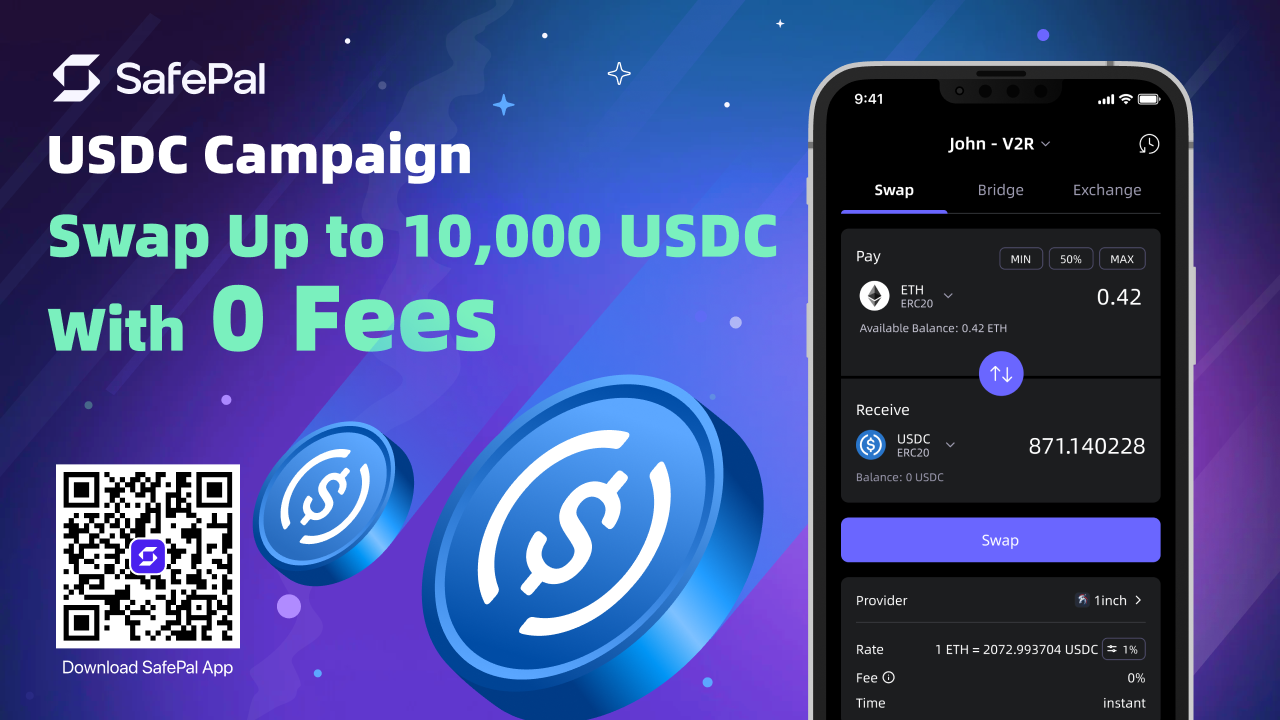 Each user will be able to swap into a total amount of $10,000 USDC per wallet address without having to pay the usual 0.2% swap fees. The usual swap fees will still apply for amounts made below $10 USDC and over $10,000 USDC during the period of the campaign, and also for swaps of USDC into other assets.
A total of $45,000 USDC in swap fees will be subsidized, and the campaign will end early if the subsidy is used up before 7th June 3AM UTC 2023.
Please refer to this guide here for how to execute swaps using SafePal Wallet.
Full Disclaimer:
Activity Rules:
SafePal reserves the right to disqualify participants that are deemed to be spammers or illegally bulk registered accounts, as well as activities that display attributes of exploitation or market manipulation.
SafePal reserves the right to cancel or amend any activity or activity rules at our sole discretion.
Not Investment Advice
This activity does not constitute investment advice, financial advice, trading advice, or any other sort of advice and you should not treat any of the article's content as such. SafePal does not recommend that any cryptocurrency should be bought, sold, or held by you.
Cryptocurrency investment is subject to high market risks. Please invest cautiously. SafePal will not be responsible for any investment losses. SafePal will not be liable whatsoever for any direct or consequential loss arising from the participation of its activities.
Do conduct your own due diligence and consult your financial advisor before making any investment decisions.
Non-Endorsement
The appearance of a third party on SafePal and its activities does not constitute an endorsement, guarantee, warranty, or recommendation by SafePal.
Do conduct your own due diligence before deciding to invest in any third-party projects or use any third-party services.
FAQs
1. If a single swap order exceeds 10,000 USDC, can I still enjoy the free swap fee?
To enjoy the swap fee discount, keep your single order amount below 10,000 USDC. If you need to swap more than 10,000 USDC, split your order into separate ones. The accumulated swap amount for the campaign is capped at 10,000 USDC per wallet address. For any amount exceeding this limit, you will need to pay the normal swap fee.
2. Can I enjoy the free swap fee if the swap amount is less than $10 USDC?
No, the Swap amount must be more than $10 USDC up to a maximum of $10,000 USDC to enjoy the free swap fee.
For further queries about this event, please go to the #USDC-Campaign channel in the SafePal Discord community here.