---
Hello SafePal Community,
It is with great pleasure that we announce the integration of the Osmosis network and support for $OSMO and $ION into the SafePal hardware wallet and mobile app.
As a leading blockchain and the liquidity hub for the Cosmos ecosystem, the integration with Osmosis will open up avenues for SafePal users to manage their assets safely, while being interoperable with 56+ networks via SafePal's cross-chain swap.
This marks another step in SafePal's mission to empower users to own their crypto adventure in a limitless, cross-chain interoperable future.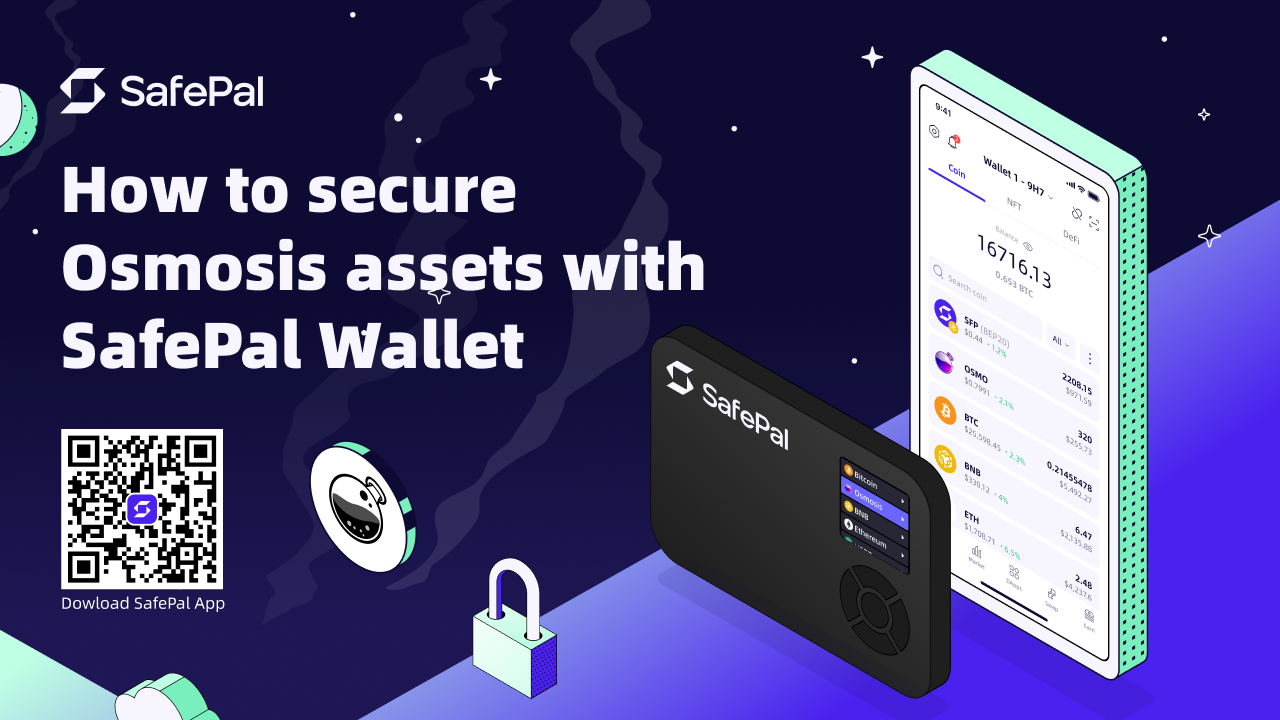 SafePal Wallet: Where you can secure Osmosis Assets
SafePal offers three decentralized wallet solutions that help crypto users manage, swap, trade, and secure their cryptocurrency assets. All three types of wallets can be interconnected, allowing users to explore the web3 world the way they like.
Download the SafePal Wallet Here
Mobile Software Wallet
The SafePal mobile software wallet is a free application that users can download on Google Play, Android, and Apple IOS. The wallet allows users to securely manage, trade, and swap their favorite cryptocurrencies on the go, in addition to exploring the DeFi world in the most convenient manner.
SafePal Software Wallet Setup Video Guide
S1 Hardware Wallet
The SafePal S1 hardware wallet is a mobile friendly, EAL 5+ secure electronic device that helps protect users' private keys by keeping them fully offline without bluetooth, WiFi, NFC or any radio-frequencies. It also has advanced security features like an anti-tamper self-erasing mechanism, true random number generator, and more to eliminate online attack vectors and safeguard against malicious actors.
Learn More About The SafePal S1 Hardware Wallet Here
About Osmosis
Osmosis (OSMO) is a decentralized exchange (DEX) for Cosmos, an ecosystem of sovereign, interoperable blockchains all connected trustlessly over IBC, the Inter-Blockchain Communication Protocol. Osmosis also offers non-IBC assets bridged from the Ethereum and Polkadot ecosystems. Originally based on Balancer-style pools, Osmosis is moving to a more sustainable concentrated liquidity model that provides a superior trading and liquidity provision experience.
As an appchain DEX, Osmosis has greater control over the full blockchain stack than DEXs that must follow the code of a parent chain. This fine-grained control has enabled, for example, the development of Superfluid Staking, an improvement to Proof-of-Stake security. Superfluid staking allows the underlying OSMO in an LP position to add to chain security and earn staking rewards for doing so. The customizability of appchains also allows for the development of a transaction mempool shielded with threshold encryption, which will greatly reduce harmful MEV on Osmosis.
Osmosis's vision is to build a cross-chain native DEX and trading suite that connects all chains over IBC, including Ethereum and Bitcoin. To build out the trading functionalities, Osmosis has invited external developers to create a bespoke DEX ecosystem that includes lending, credit, margin, fiat on-ramps, Defi strategy vaults, NFTs, stablecoins, and more – all the functionalities of a centralized exchange and more, plus the trust-minimization of decentralized finance.